Ultra-High Density
Radial Flux PM Traction Motor
Features
Considerably thinner, lighter but powerful

Borader high effiency coverage

Power density reaches 12.9kw/L

Torque density reaches 22Nm/kg
1. Introduction & Charateristics



ETM motor is a high-energy density, radial flux, permanent magnet synchronous disk motor. This

series is based on REALLAND's breakthrough "new radial magnetic field high-density disc motor structure" core technology (patented technology) and is uniquely designed for the needs of new energy vehicles driving motors and generators. It has the following characteristics:
Ultra-high energy density
Using a new high density radial flux permanent magnet synchronous disc motor technology, the volume power density can reach 12.9 kW/L, and the effective weight and torque density can reach 22Nm/kg.

Ultra-small and Ultra-light

Ultra-small size, ultra-light weight, only 50-60% of the current volume and weight of permanent magnet synchronous reluctance motor.These two characteristics are the priority requirements for the main drive motor or generator of electric vehicles and hybrid vehicles.


ETM motor has the characteristics of ultra-thin disc, which is the best solution for wheel-side motor drive.

Ultra-thin structure is convenient for integration. It can be integrated as ISG motor, gearbox and electric vehicle bridge.
It is also particularly suitable for the ultra-short axial size requirements of automotive generators and drive motors.

Building block combination
Based on the ultra-thin size, ETM can realize the dual motor building block combination.

The combination of two motors can be controlled by either one controller or two independent controllers (two motors are driven simultaneously at low speed or on hill climbing, and one motor is driven at high speed), which makes the control more flexible.
High efficiency and broader coverage

ETM motors have a high efficiency of up to 96% and have a wider range of efficient area coverage based on their electromagnetic principles for better power savings and longer mileage.ETM motor technical indicators are in the leading position in the world.

2. The Comparison Between "Radial magnetic field disc motor" and "Axial magnetic field disc motor".
The axial magnetic field disk motor has the following disadvantages due to the magnetic field structure:

1) There is a large axial magnetic pull between the stator and rotor of disk motor with axial magnetic field, which makes it difficult to integrate with gearbox, gear or engine.

2) When the rotor of disc motor with axial magnetic field is connected with the load shaft, the air gap between the stator and the rotor decreases when the load shaft is in series axially under the driving vibration condition, which easily leads to a large unilateral magnetic pull force, and there is a risk of friction between the two.

Our innovative "new radial magnetic field disc motor" has the same ultra-high energy density, torque density and power density as the axial magnetic field disc motor, as well as ultra-thin shape size. There is no axial magnetic pull between stator and rotor, which is convenient for integrated design with engine and gearbox.Moreover, under the working condition of vehicle vibration, it has the ability to withstand the axial series (without causing unilateral magnetic pull), which overcomes the above shortcomings and risks of the axial magnetic field motor.

3. Product Applications
Whether distributed drive or centralized drive arrangement, ETM motor has outstanding advantages in the application of new energy vehicles.

Electric drive gearbox requirements

Based on the characteristics of the ETM motor, it is ideally suited for integration with the gearbox as an electric drive gearbox.

Parallel shaft electric drive transmission:
Single motor Dual motor
Coaxial electric drive transmission: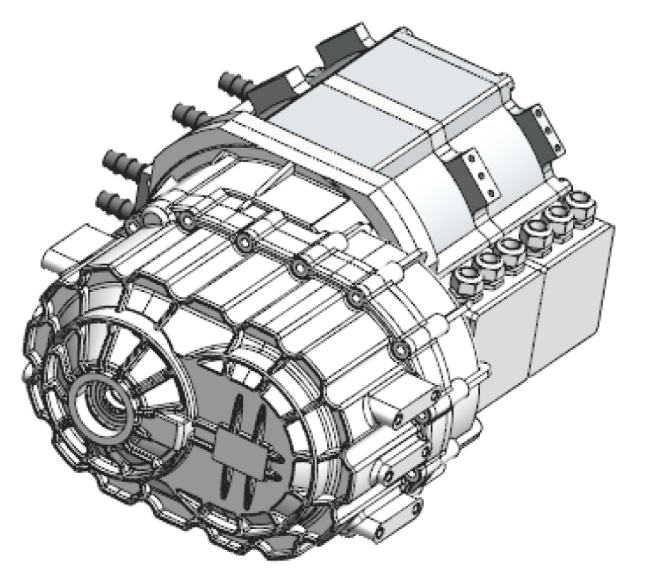 Single motor Dual motor
Various driving modes and application schemes
(1) The electric drive gearbox is placed in the rear (front) bridge drive
Applicable to: HEV, EV passenger cars, physical vehicles, trucks, etc.
(2) Rear axle bilateral wheel motor drive
Applicable to: bus bus rear axle drive, to achieve low floor, wide channel, and medium and heavy trucks.

(3) Front and rear dual motors for full-time four-wheel drive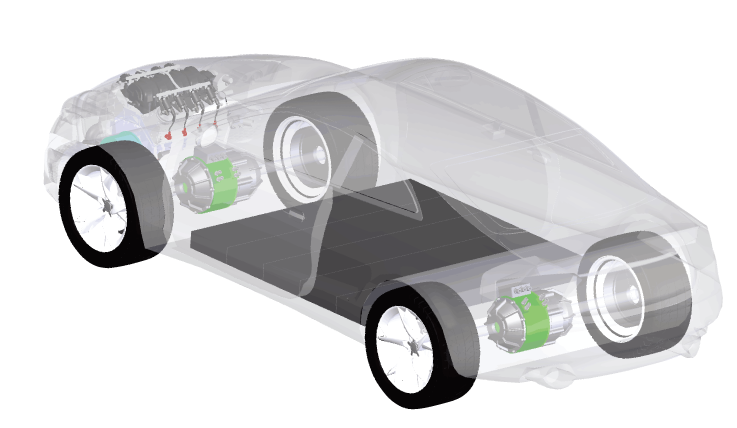 (4) Four-wheel four-wheel drive super run
(5) ETM motor is combined with wheel-side reducer, which is suitable for wheel drive solutions of container trucks, straddle trucks, AGV logistics trucks, forklifts, electric engineering vehicles, etc.
(6) Integrated in HEV engine as ISG motor
(7) The extended-range electric vehicle is connected to the engine crankshaft as a generator

ETM motor is widely used in all kinds of highways, off-road vehicles, engineering, regional logistics vehicles, and electric boats.


———————————————————————————————


【Product Series Catalog: Including technical specifications, model description, basic parameters of all standard models】
———————————————————————————————
【Information Package: Including detailed parameters, 2D dimensional drawing and 3D model file】
———————————————————————————————